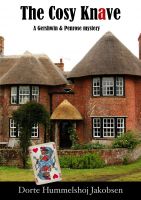 Let me tell you that my friend blogger and Danish writer Dorte Hummelshoj Jakobsen at DJ's krimiblog has just released a new novel, The Cosy Knave. You can find the book description at Smashwords: "A cosy Yorkshire mystery. The vicious attacks begin when the prodigal son of Knavesborough returns to the sleepy village after forty years in Argentina with fame and fortune. No wonder that spiteful Rose Walnut-Whip is killed, but when the violence escalates, Constable Penrose knows he needs help from his fiancée, librarian Rhapsody Gershwin."
Dorte kindly offers the following tip to anyone interested in buying the novel: "to get a lower price for you and more money for me, use the Smashwords coupon PN22N. Please spread the word, it is not just for friends but intended as a world-wide offer".
For promotion, Dorte has come up with an original idea, a launch relay race or a baton relay. The baton is a question posted by one of her friends in the blogosphere, which Dorte answers on another blog who in turns, places another question that will be answered in another blog and so forth.
Without further ado, here is Dorte's answer to question # 13, posted yesterday by Cathryn at Suburban Noir : What are the main sources of inspiration for your cosy stories?
"Now I don´t mean to say I write like any of my role models, but there are a number of writers who have inspired me in different ways.
First, I know that Caroline Graham´s splendid series about Chief Inspector Barnaby (known from TV as Midsomer Murders) is one of the main reasons why I had to have an English setting. Not a real village by any means, but the kind of Miss Marpleish village Anglophile tourists like me would like to think exist somewhere.
Other cosy series that have made me think ´I´d love to write something like this´ are Elizabeth Spann Craig´s Myrtle Clover series, her new Memphis Barbeque series (written under the name of Riley Adams), and M.C. Beaton´s Hamish Macbeth series. These mysteries are light and entertaining, but they also offer intriguing characters and proper plots with satisfactory endings.
As I know that some of my readers call "The Cosy Knave" a spoof, let me round off by mentioning that I also feel indebted to a couple of irreverent mystery writers, i.e. Donna Moore and Len Tyler."
Question # 14 is: Could you please answer the question you were looking for but nobody asked you?
Do not forget to take a look at Philip's blog, TO BE READ… …before I buy another book, and you will find out Dorte's answer tomorrow.
Thank you Dorte, congratulations and all the best.
My review of The Cosy Knave will be coming soon, stay tuned.